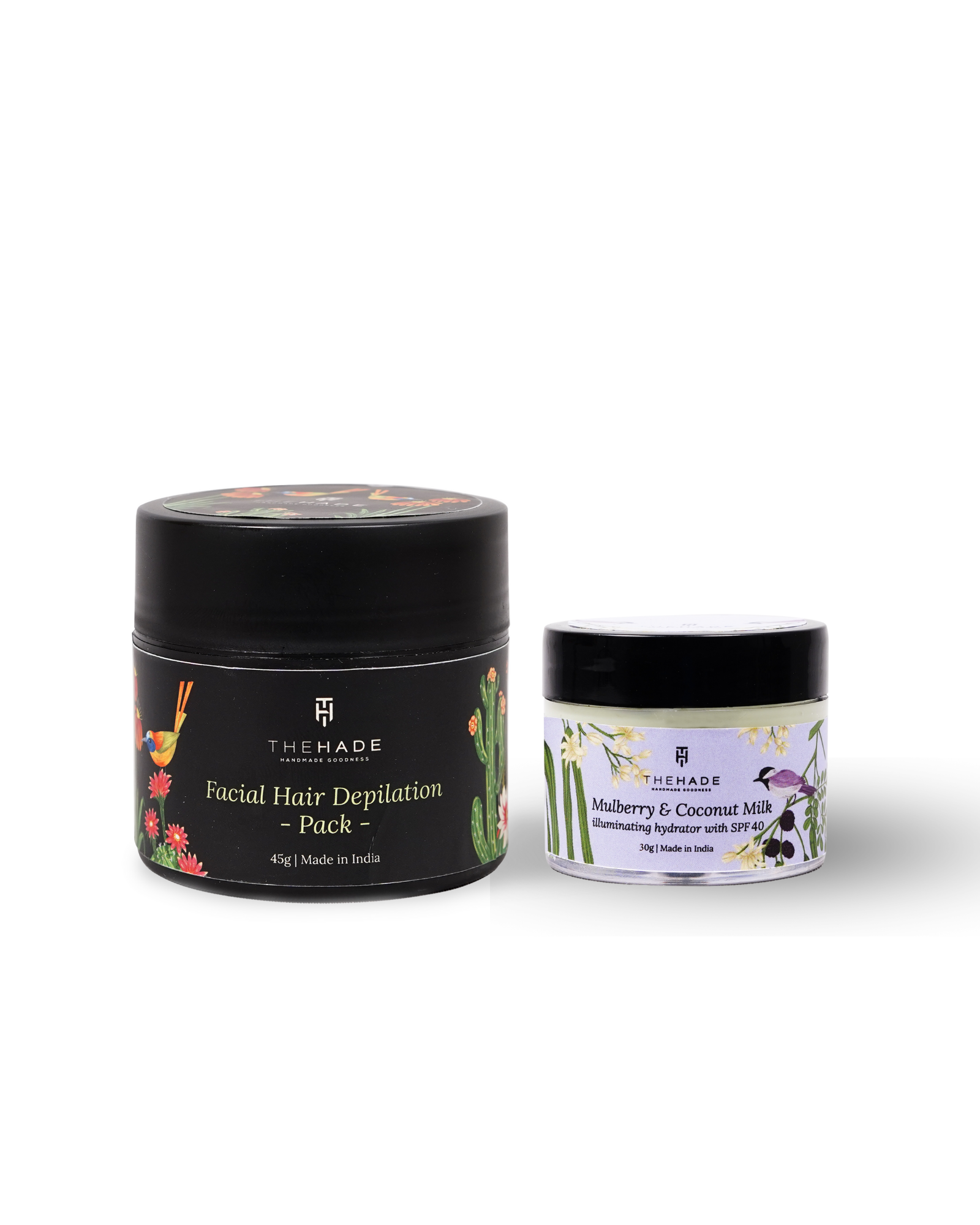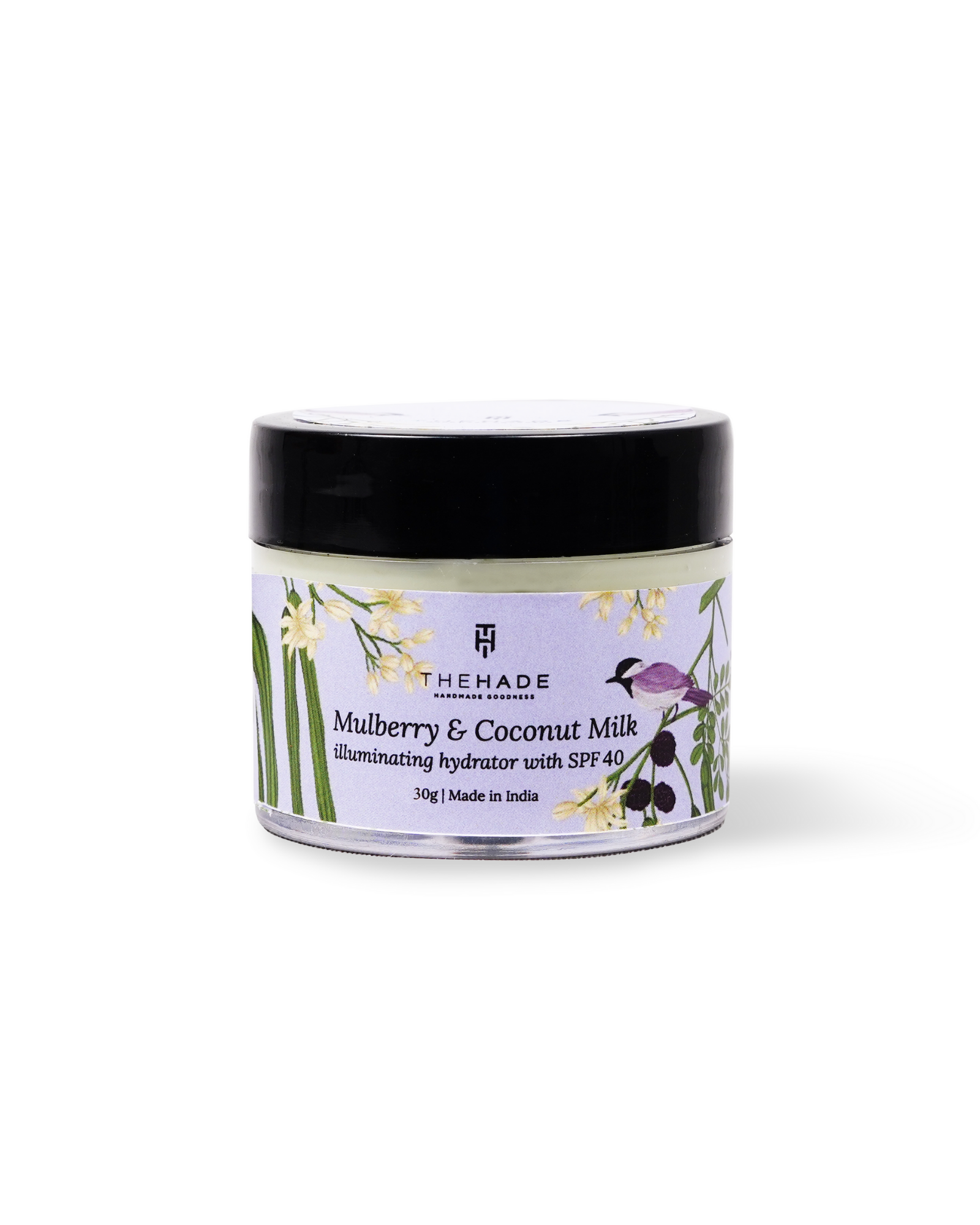 Facial Hair Depilation Pack&Mulberry&CoconutMilk Illuminating Hydrator with SPF40 Combo
---
Free Shipping on all Prepaid Orders.
Facial Hair Depilation Pack
This sacred powder is an amalgamation of native flora and fauna with formulas of the ancient science of Ayurveda. The powder works by gently and intuitively slowing down and reducing the amount of facial hair. 

Highlights :

- Fresh product will be made after your order.
- Exclusively hand crafted with no machine interference.
- Ingredients sourced from Western Ghats.
Mulberry & Coconut Milk Illuminating Hydrator with SPF 40 Combo
Mulberry & Coconut Milk Illuminating Hydrator with SPF 30 is a native concoction of the berry that is the crème de la crème of antioxidants with Coconut Milk, the tropical crown of wellness.
Mulberry makes skin bloom in tone and texture whilst Coconut Milk has a rich nourishing and beautifying effect on the skin.
Together Mulberries and Coconut Milk make a perfect smoothie for skin health, that naturally feels soothing on application and leaves your skin with a hydration boost, protects against sun damage and an has an all natural illuminating effect.
DISCLAIMER

Orders will be dispatched within 5-7 business days from the date of purchase.
Color and Consistency may vary batch to batch as it is completely handmade.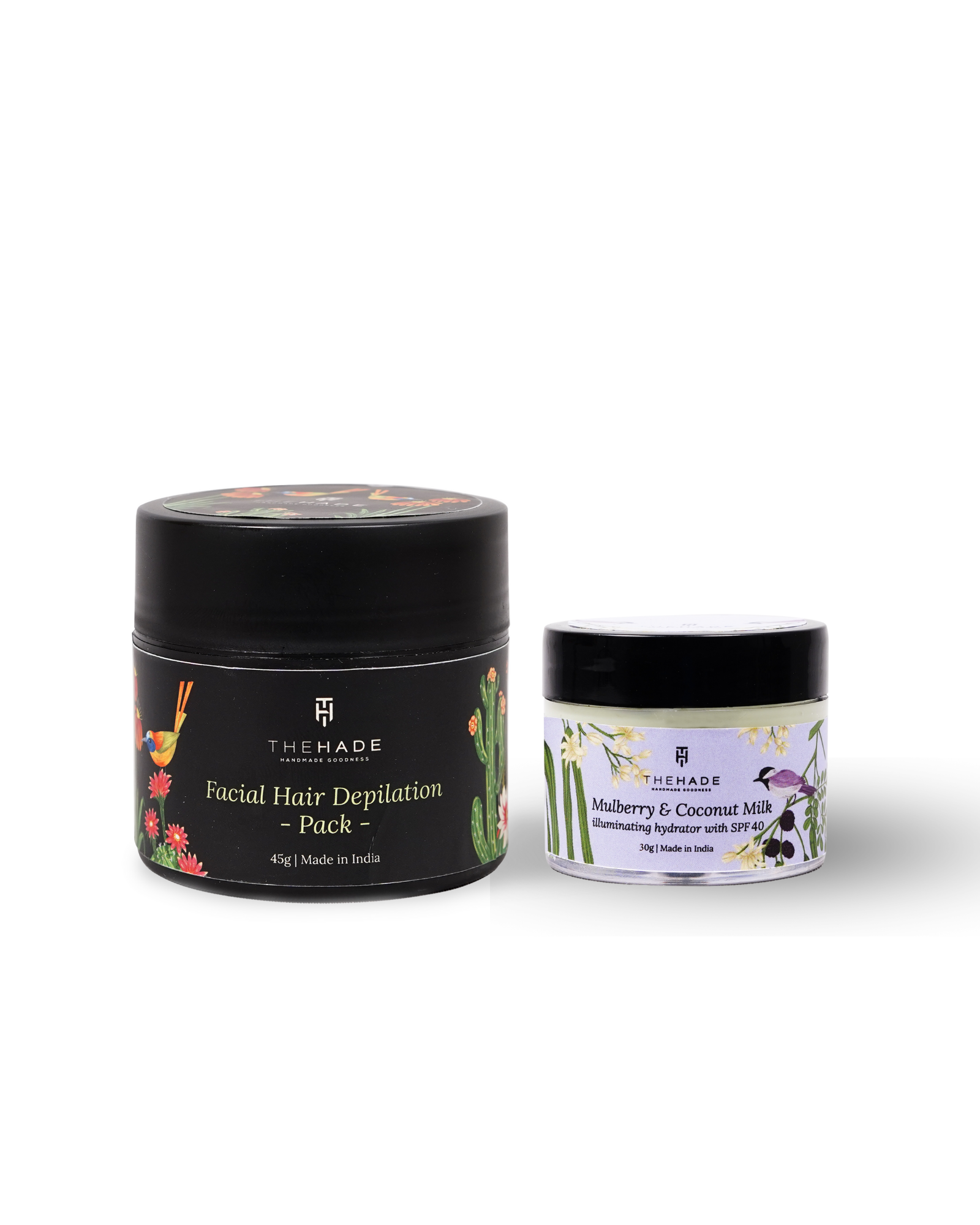 Facial Hair Depilation Pack&Mulberry&CoconutMilk Illuminating Hydrator with SPF40 Combo
Sale price

Rs. 1,020.00
Regular price

Rs. 1,220.00
Choose options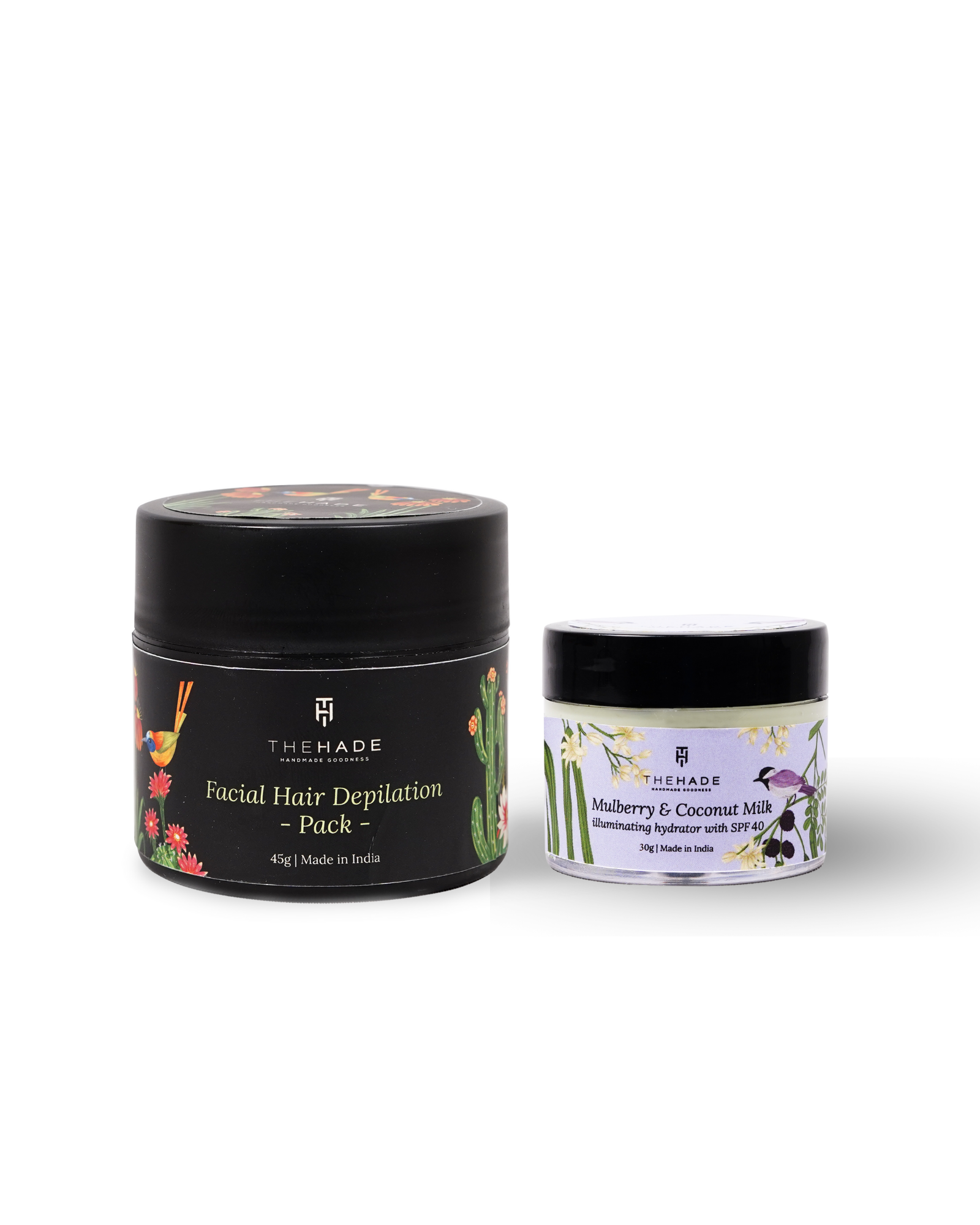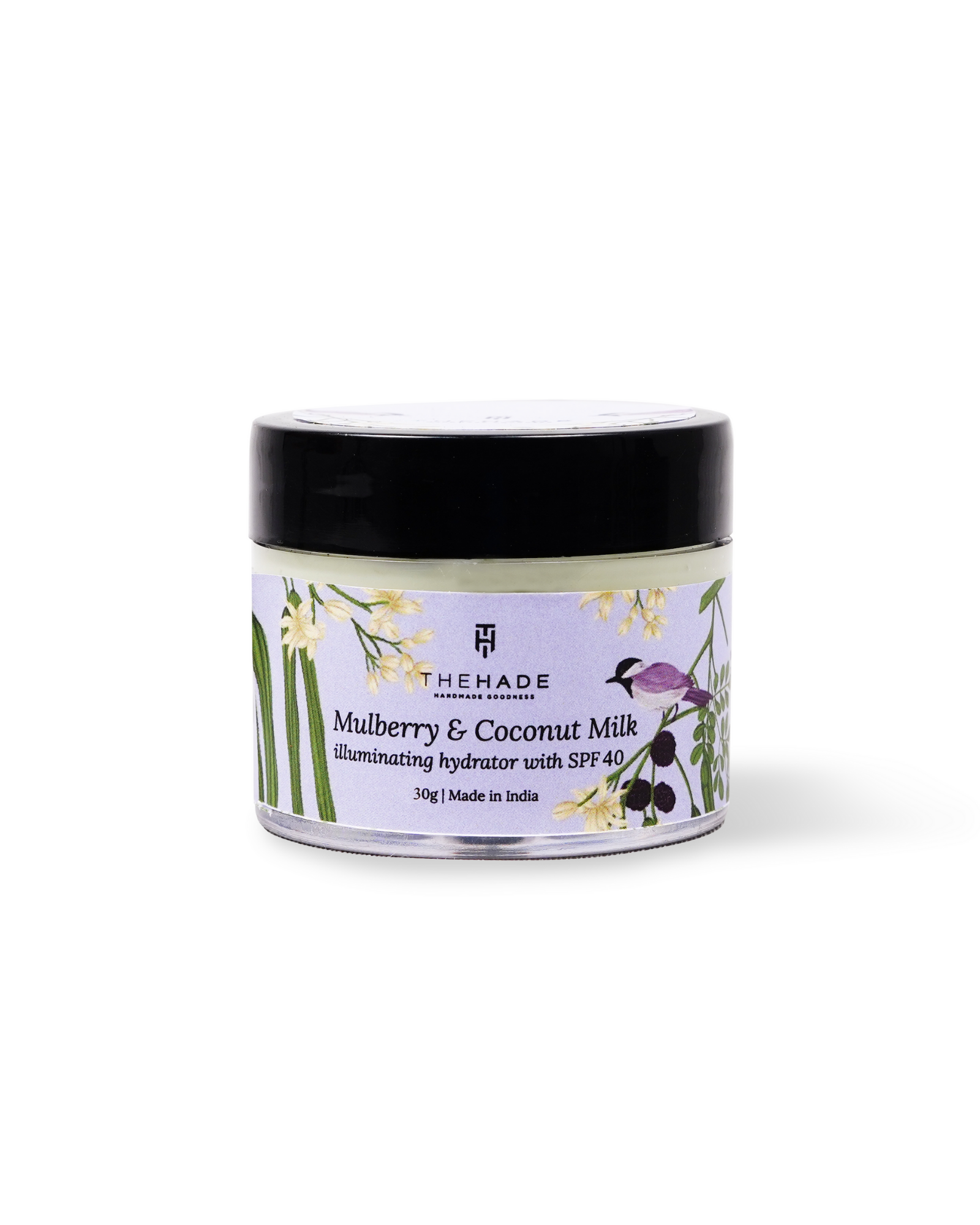 Facial Hair Depilation Pack&Mulberry&CoconutMilk Illuminating Hydrator with SPF40 Combo
Facial Hair Depilation Pack&Mulberry&CoconutMilk Illuminating Hydrator with SPF40 Combo